Fátima Miranda
After completing her M.A. in Art History, she specialized in Contemporary Art, publishing two books on architecture and urbanism. Between 1982-89, she directed the music library of the Madrid Complutense University. Following her encounter with Llorenç Barber, she founded in the eighties the improvisational group Taller de Música Mundana, as well as Flatus Vocis Trío, dedicated to phonetic poetry. She soon discovered the unexpected and precious potential of her voice, developing a series of unique and personal vocal techniques.
She pursued studies with Japanese singer Yumi Nara, Mongol singing with Tran Quang Haï, Indian Dhrupad with various members of the eminent Dagar family, and bel canto, bringing all these diverse techniques traditionally considered incompatible into a rich, unprejudiced partnership with the avant-garde, which crystallized in her first solo concert-performance, in 1991.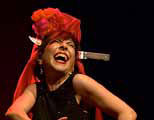 In 1996, she was awarded the prestigious DAAD grant, being invited by the Berliner Künstlerprogramm des Deutscher Akademischer Austauschdienst, as artist in residence in the city of Berlin. In 2009 she was awarded IV PREMIO INTERNAZIONALE DEMETRIO STRATOS. En 2009 and II Premio Cura Castillejo a la Propuesta Musical mas desaforada.
From the nineties she has created concerts-performances for solo voice: "Las Voces de la Voz " (1991), "Concierto en Canto" (1995), "ArteSonado" (2000), each of them edited on CD. In 2005 she has created "Cantos Robados" and in 2011 "perVERSIONES", both edited on DVD.
Fátima Miranda has collaborated among others with Llorenç Barber, Robert Ashley, Wolf Vostell, Jean-Claude Eloy, Julio Estrada, Bartolomé Ferrando, Pedro Elías, Stefano Scodanibbio, Bertl Mutter, Rachid Koraichi, John Rose, Hans Peter Kuhn, Stéphane Abboud, Werner Durand, Mirella Weingarten and Sacha Waltz.
She has performed as a soloist in numerous international festivals within contemporary, vocal and experimental music circuits as well as those of theatre, sound poetry and performance art.
Miguel Angel Alonso Mirón
Nace en Cáceres en 1979. Con 10 años es seleccionado para formar parte de la Escolanía del Real Monasterio de San Lorenzo del Escorial. Allí recibe clases de Irina Shirokij y José de Felipe Arnaiz. Durante su estancia en dicha agrupación participa en la grabación de varios discos y en importantes acontecimientos dentro de la vida musical de nuestro país, como el estreno en España de la Tercera Sinfonía de Leonard Bernstein, o el estreno absoluto de la ópera "Solimán y la Reina de los Pequeños". Hasta la fecha, ha sido uno de los miembros que más tiempo han permanecido como becarios de esta institución.
Continúa sus estudios musicales en el Conservatorio Padre Antonio Soler de San Lorenzo del Escorial, teniendo como profesores a Lydia Rendón, Anatoli Povzoun y Graham Jackson, entre otros.
Tras licenciarse en piano con Alexander Kandelaki en el Conservatorio Superior de Música de Badajoz, decide especializarse de manera particular en el acompañamiento de cantantes. Para ello ha recibido clases de profesionales como Alejandro Zabala, Francisco Poyato, Jeff Cohen, Mitsuko Shirai o Alan Branch.
Ha realizado cursos de dirección coral con Harry Christophers; canto gregoriano con Dolores Aguirre y Nino Albarosa; piano solista con Luca Chiantore, Solomon Mikowsky y Mariana Gurkova.
Entre 1999 y 2001 gana la beca para estudios musicales de la Fundación Caja de Badajoz. Es premiado en el Concurso de Lied "Fidela Campiña" 2009 junto a la soprano Amaia Larráyoz.
Ha actuado en diferentes puntos de la geografía española, como el Festival Iberia de Hervás (Cáceres), el Festival de La Cuevona de Ribadesella (Asturias), o el Festival Are More de Vigo.
Obsesionado con la interpretación escénica del repertorio vocal, en los últimos años ha desarrollado un profundo trabajo en este terreno que le ha llevado a colaborar en distintos proyectos escénicos. Entre ellos destacan su participación como director musical, pianista y narrador en "Los incendiarios " de Max Frisch, dirigido por Jara Valderas, o sus trabajos junto al director de escena Raúl Arbeloa en obras como "A House full of Music" de John Cage; "The Great Learning" de Cornelius Cardew; "Schwanengesang" de Franz Schubert.
Desde el año 2005 es profesor en la Escuela Superior de Canto de Madrid.
Tutte le foto di Fátima Miranda e Miguel Angel Alonso Mirón
cortesia di Juanjo Delgado